There are three leadership roles at Elston Family Church: those who serve as Elders, those who serve on Staff, and those who serve as Life Group Leaders.
The way the three groups work together can best be stated as follows:
The staff directs the ministries of the church and all the activities of the church are carried out under the watchcare and supervision of the Elders. Life Group Leaders are church members who have stepped up for a season to help lead a small group and support the Elders and Staff in the care of our church family. 
..
Randy Skidmore – Senior Pastor
As pastor of this fellowship, we have had a unique journey to get to where we are today.  For the most part, Lisa, and I grew up here at Elston Family Church (formerly Elston Heights Baptist Church).  In the mid-eighties, we surrendered to ministry and earned degrees in Religious Education and Music through Baylor University and Southwestern Baptist Theological Seminary.  Upon graduation, we stayed in the Central Texas area and served various churches and ministries.  In the late nineties, God called us back to Indiana to eventually serve here at Elston.  In 1999, taking on the ministry at Elston seemed like an impossible task!   God was asking a "former Elston teen" of the seventies, to now take a handful of people twenty years later on a path of following the Holy Spirit and His leading, wherever and however He might lead.  But today, we've done just that! What seems impossible with man, is possible with God!  We are excited to see where the next decade of following the Spirit will take us!  We are blessed to have our three children, spouses, and grandchildren grow with us in the journey too.
Gene Pfeifer – Elder
Gene and his wife Diane have been at Elston since 2001. Gene serves as "spiritual covering" and guidance, as well as overseeing the grounds team, maintenance team, and the security team. He and his wife, Diane, also serve as our Children's Pastors, where they teach, disciple and love the children at EFC. They have 7 kids, and 11 grandchildren. Gene enjoys reading, spending time with family, visiting his grand-kids, and driving his Mustang.
Angela Hunt – Staff
Angela and her husband Eric have been at Elston since 2008. Angela serves on staff at EFC as the Celebrate Recovery Ministry Leader and as administrative/office and pastoral support, while serving the National Team of Celebrate Recovery as a State Rep for Indiana. Angela and her husband, Eric, have 3 sons and live on a small horse farm with young and old horses, 3 dogs, some cats and a burro. Angela enjoys reading historical fiction and watching reality t.v. while drinking coffee or cranberry lime seltzer water.
Joe Faulkner – Elder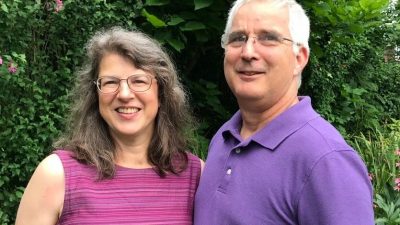 Joe and his wife Beth have been at Elston since 2006. Joe serves as "spiritual covering" and guidance, as well as on the church board, as a Life Group leader, and as pastoral support. Together they help with multiple service projects, financial counseling and have a passion for fostering children. Joe and Beth have 6 kids, and 3 grandchildren. Joe enjoys wood working, spending time with his family.
Regan Skidmore – Staff
Regan and her husband Fred have been here since 2008. Regan serves on staff at EFC as The Deep (Youth Group) Ministry Leader where she teaches and disciples students. She also serves as administrative/office support. Regan and Fred have 6 kids together, 3 boys and 3 girls, and are steady on the move from soccer game to gymnastics meet. Regan loves starbucks, going to CrossFit, and doing anything outdoors where there is a pool or a beach involved.
Ron Reece – Staff
Ron and his wife Tanner have been at Elston since 2015. Ron serves on staff at EFC as support to the pastor in worship, preaching, and leadership development. He also helps oversee the Media and Audio Visual Teams. Ron and Tanner also serve as The Landing (Celebrate Recovery for Teens) ministry leaders, and have a passion for hurting students. Ron and Tanner don't have any kids yet, but they do consider their two cats, Taco and Tamale, apart of their little family. Ron enjoys live music, traveling with his wife, and camping with their friends.
Ben & Lyndsey Smith – Life Group Leaders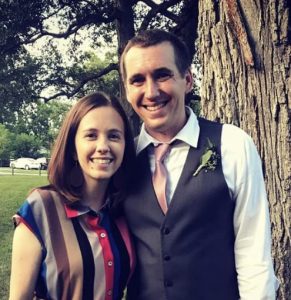 Ben and Lyndsey Smith have been here together since 2013. They serve as Life Group Leaders as well as support roles in worship/media, and teaching in children's church. They have two kids and a 120 lb golden doodle. They loves sports, movies, and spending time with their kids.