Senior Pastors Randy & Lisa Skidmore
As pastor of this fellowship, we have had a unique journey to get to where we are today.  For the most part, Lisa, and I grew up here at Elston Family Church (formerly Elston Heights Baptist Church).  In the mid-eighties, we surrendered to ministry and earned degrees in Religious Education and Music through Baylor University and Southwestern Baptist Theological Seminary.  Upon graduation, we stayed in the Central Texas area and served various churches and ministries.  In the late nineties, God called us back to Indiana to eventually serve here at Elston.  In 1999, taking on the ministry at Elston seemed like an impossible task!   God was asking a "former Elston teen" of the seventies, to now take a handful of people twenty years later on a path of following the Holy Spirit and His leading, wherever and however He might lead.  But today, we've done just that! What seems impossible with man, is possible with God!  We are excited to see where the next decade of following the Spirit will take us!  We are blessed to have our three children, spouses, and grandchildren grow with us in the journey too.
Children's Pastors and Elders Gene & Diane Pfeifer
We have lived in the Lafayette area for over 38 years now.  We have 7 children and 9 grandchildren. What we most love about Elston Family Church is the people and their love for Jesus Christ.
Celebrate Recovery Leaders Eric & Angela Hunt
We are grateful believers in Jesus Christ that have attended Elston Family Church for 5+ years with our three sons.  We fell in love with the worship, biblical preaching and fellowship offered Sunday mornings and in family group.  As our faith has grown and our biblical understanding has matured, Elston Family Church has launched our family into life-changing ministry through Celebrate Recovery.
Elders Joe & Beth Faulkner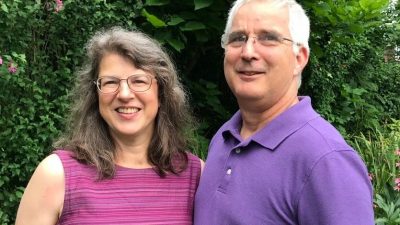 We met while attending church at Purdue and married in 1984. We have six children. Beth enjoys reading, cooking, quilting and home schooling the three youngest Faulkners: Sarah (16), Wesley (12) and Micah(10). Joe works in information systems at Purdue, and enjoys woodworking.
"God has blessed our church with faithful, grateful followers of Jesus Christ.  We love being part of a church family that demonstrates God's love to one another, to our community and to our world in tangible, meaningful, relevant ways.  We appreciate the love and support we receive from our church family, and are thankful that God has given us an opportunity to serve, learn and grow in and with this body of Christ Followers."
Elders Sam & Autumn Durham
Sam and Autumn are from Winchester, Indiana. They were married in 2005 and have two children, Grace and Alec. Sam is a pharmacist and Autumn worked as a teacher but now works from home. Sam and Autumn enjoy reading, being outside with their kids, and traveling. Sam is a student at The Southern Baptist Theological Seminary. They have been members at EFC since 2006 and Sam was ordained in 2018.